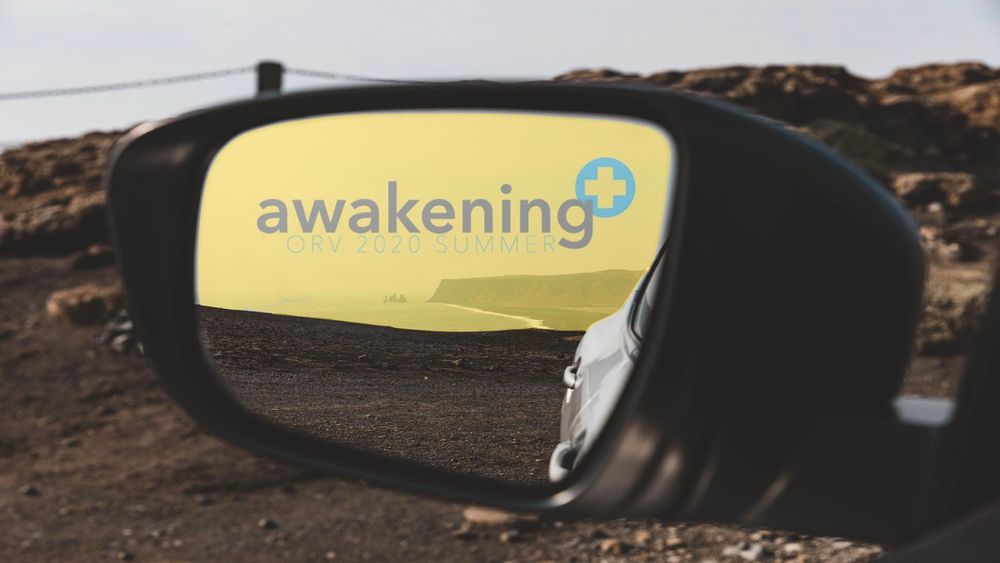 August 24, 2020
Are We Awake? (Part 1)
Our reflections from launching the awakening ORV 2020 Summer Series.
This past summer was one we will remember. The Covid-19 pandemic was in full swing and students and their families were bunkered down in their homes. Camps, mission trips, retreats, and summer activities that churches normally offer their students were getting cancelled. In response, Colocate Ministry Consulting and Ohio River Valley District came together to offer awakening: ORV 2020 SUMMER. This was a digital experience especially developed for students facing the cancellation of so many camps, mission trips, days of service, retreats, and the list could go on and on...We hoped each student who "came" could connect with others and most importantly experience an awakening allowing them to deepen their relationship with God.
After rolling out awakening: ORV 2020 SUMMER. Brent and Benji, the awakening facilitators and hosts, spent some time reflecting on this experience. This two part post shares their two biggest takeaways: voices matter & pivoting is not optional.
Continue Pivoting - Part 1
By Rev. Brent Dearnell
It is mid to late May and leaders from Colocate Ministry Consulting and Ohio River Valley District find ourselves on a Zoom call discussing the bummer news we keep hearing about camps, mission trips, retreats, and other meaningful summer experiences being cancelled. Students who already lost their 4th quarter of school and now found themselves losing some big summer opportunities. Discussion turned to brainstorming and brainstorming turned to planning. We all hit the "leave" button ready to offer students an alternative experience!
Initial pivot. We were going to offer a fully digital week of camp like experience with personal morning devotions, zoom small group lunchtime challenges, evening worship experiences followed by small discussions over zoom. It was going to be great...so we thought and according to everyone we shared the idea.
Pivot back. As the school year wrapped up and June and July started to take its toll we ALL became a little "Zoomed out" (Zoomed out - intense exhaustion of seeing and being one of the little squares on the screen). Youth leaders started asking about an onsite option. We said, great we can make that work! We reimagined what a hybrid option of some people meeting at their church sites while others being fully online would be and started getting onsite and online leaders organized.
Pivot pivot pivot. (I am feeling like it is 1999 and I keep hearing Ross from the show Friends holding the couch in the stairwell yelling "pivot" at his friend Chandler.) Registration starts and everything goes radio silence. No one is registering, youth leaders are giving us the big IDK (I don't know) about their groups, we are hearing students are lonely but do not want to be on the computer, and many parents are not comfortable with in person meetings yet. The band was locked in, the leaders were signed up, the speakers were ready, everything was falling into place EXCEPT the students. After a looonnng and prayer filled discussion we threw out half of the plans and kept moving forward. We pivoted from offering a private event for the students that registered to offering a public resource for individuals and churches could use alike. The morning devotionals and lunchtime challenges got the axe. We rethought the evening worship time and moved to a series of episodes with a guide (personal or small group discussion guide) to help those looking to go a little deeper. These can be found on the awakening: ORV 2020 SUMMER site.
Lessons I Learned:
BE OPEN - I am a planner to a fault. I am the guy who has the whole school year planned out before hitting those summer trips. During this crazy season, really always but especially during the pandemic, we have to be open to the ever changing culture and needs of our students and their families. Being open is interpreting your next step, no matter what the plans may be, by having a posture of presence that allows you to see what is happening, hear what people are saying, feel what those you are in ministry with are experiencing, and where the Holy Spirit is calling.
PIVOT BUT STAY PLANTED - Being able to move around is great but it is critical to stay anchored to the "why" of what we were doing. Just like in basketball, keeping your foot planted but being able to shift directions to open up more and better opportunities is critical. It was tempting to shift things around to get numbers, make it easier, or just quit because it felt like it wasn't working. However, if we had done any of those we would have lost why we started this in the first place. We wanted students, who were longing for something this summer, to be able to connect with others and experience an awakening that allowed them to deepen their relationship with God. The pivoting allowed for many youth, their families, their youth groups, and adults to hear a call to become awake to God's presence in their lives.
Rev. Brent Dearnell

Brent is married to Sara and is a father to four young children. He has served as a volunteer, interim, and full-time youth pastor, discipleship pastor, and executive pastor. Before going into ministry full-time he was a middle school teacher in an urban environment as well as a varsity soccer coach. He is passionate about helping young people live into their passion, faith, and call. This passion is why he is one of the cofounders of Colocate Ministry Consulting and serves as one of our coaches.